The past year has brought two reminders of The Communicators Club's longevity and impact: the 70th anniversary of our predecessor organization's founding in 1951, and the 10th birthday of TCC as it exists today.
To honor the first milestone, The Communicators Club kicked off its 2021-2022 event series with a Zoom-based panel of former and current members.
Led by veteran presence and former TCC Board President Allison Chisolm, the "Celebrating 70" five-speaker lineup highlighted historic tidbits, print artifacts and memorable moments from their respective tenures. A Q&A discussion after the main presentation tackled ideas to inject new life and membership opportunities into TCC – and included a focus on engaging younger audiences.
Joining Allison on the panel were former board members Bob Datz, Mike Dorsey, Diane Gaw and Margaret LeRoux.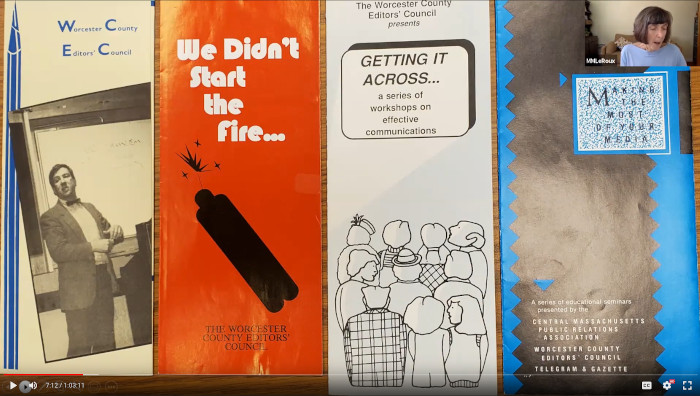 We've embedded a full video recording of the Zoom-based 'Celebrating 70' event immediately above (just click the screenshot). For more details on the meeting lineup and discussion themes, read the original announcement at this link.
---
TCC turns 10
While one successful decade can't hold a (birthday) candle to 70 years, it's well worth noting the second landmark.
Press coverage chronicled the unveiling of the newly merged Society of Professional Communicators and AdClub of Greater Worcester on May 8, 2012, at Assumption College. A TCC website (shown in the main graphic) and now-familiar logo also debuted.
"The Communicators Club comes in response to the shifting business landscape and fast-track marketing communications industry needs. The brand makeover … is intended to reflect the organization's focus on providing passionate, professional communicators a way to exchange resources and creative ideas," wrote a GoLocalWorcester reporter covering the christening.
"Professions such as multimedia designers, producers, advertisers, marketers and public relations professionals will all be welcome in the group. President Cindy Wright believes the rebranding shows where it is headed.
" 'It reflects the spirit of the creative, forward-looking professionals working to build business in Central Massachusetts,' said Wright. 'We're excited about our new identity and look, and about the fresh opportunities to help communications pros throughout Central Massachusetts share, collaborate and grow.' "